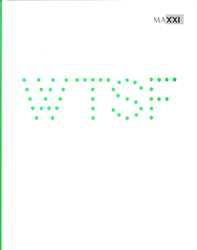 Publishing
Maurizio Nannucci. Where to start from
curated by Bartolomeo Pietromarchi
Mousse Edizioni
Milano 2015
267 pagies
ed. Italian/English
Published on the occasion of the monographic exhibition of Maurizio Nannucci, Where to Start From documents the artist's work from the Sixties through to the present day with photographs, critical texts, an interview and an extensive bio-bibliographic apparatus.
The book traces a path that spans around fifty years and comprises the neons, the celebrated luminous writings that testify to Nannucci's interest in architecture and the urban space, the multiples and the publishing projects created together with other artists.
The graphic face of the book is of particular interest: from the perforated cover to the layout of the texts, the photographs and the papers, the entire project was conceived by Maurizio Nannucci as a representation of his creative universe.
Buy Online