The National centre
for the Contemporary Art
and Architecture
The project for the building devoted to the national centre for the contemporary art and architecture was selected following a two-part international competition launched by the Ministry for Cultural Heritage in 1998.
The winning design was that of the Anglo-Iraqi architect Zaha Hadid, chosen from among 273 candidates from all over the world.
Zaha Hadid's proposal convinced the jury thanks to its capacity to integrate with the urban fabric and for its innovative architecture successfully interpreting the potential of the new institution and equipping it with an extraordinary sequence of public spaces.
Il Progetto Architettonico
The MAXXI design goes beyond the concept of the building-museum. The complexity of the volumes, the curving walls, the variations and intersections of the levels determine a very rich spatial and functional configuration that visitors may pass through via ever different and unexpected routes.
The MAXXI design addresses the question of its urban context by maintaining an indexicality to the former army barracks. In this way, the Centre is more like an "urban graft", a second skin to the site.
The design offers a quasi-urban field, a world" to dive into. The Campus is organised and navigated on the basis of directional drifts and the distribution of densities rather than key points. This is indicative of the character of the Centre as a whole: porous, immersive, a field space.
Multiple environments coexist in a sequence of galleries illuminated with natural light filtered via a special roof system. The large full height atrium houses the reception services and leads into the auditorium, the galleries destined for the permanent collections, the exhibitions and the spaces devoted to the cafeteria and the bookshop.
Cantiere d'autore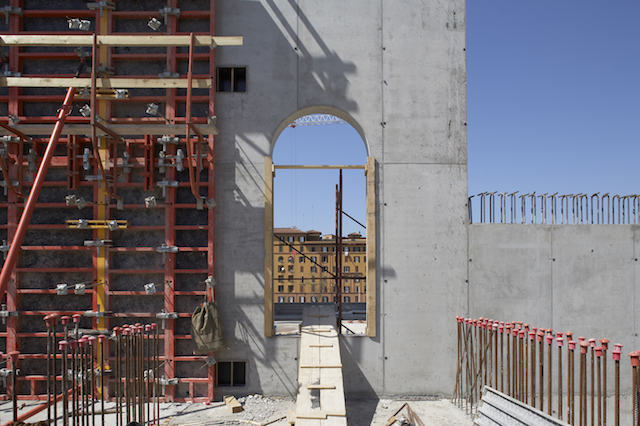 20 great photographers recounting the story of the MAXXI construction site, 20 points of view tackling the complex theme of a place in continuous mutation.
View gallery
Zaha Hadid
Zaha Hadid was born in Bagdad and graduated in Mathematics from the American University in Beirut. She then moved to London, where she studied architecture at the Architectural Association and obtained her degree in 1977. Her work is a revolutionary research bordering on town planning, architecture and design. Her innovative way of representing the project…
Full bio