foto © Marco Anelli
segnaliamo
Friday 12 May 2023 - Sunday 21 May 2023
Il muro del cambiamentoThe Wall of Change
MAXXI piazza
free admission
Tuesday > Sunday
11 am > 7 pm
An interactive installation to interact with the future, proposing new words for a change.
The Manifesto del Cambiamento (Manifesto of Change) is an ambitious and courageous project, curated by Giovanni Caccamo, which originates from the idea competition Parola ai giovani (Word to Young People), during which the singer-songwriter met thousands of young people in universities, prisons and reception centres and collected with them sixty words for change, each tells an aspect of society they would like to see different. Each of these sheets was then entrusted to a great artist who drew inspiration from them for a work of art: Arnaldo Pomodoro, Emilio Isgrò, Fabrizio Plessi, Ferdinando Scianna, Francesca Cataldi, Giulia Napoleone, Guido Strazza, Mario Ceroli, Maurizio Cattelan, Michelangelo Pistoletto, Mimmo Jodice, Mimmo Paladino.
To coincide with the release of the Manifesto, at MAXXI, with the support of Banca Ifis, each visitor can choose to leave their word on the Muro del Cambiamento (Wall of Change). Each word appears in real-time on the installation's led wall through murodelcambiamento.it, contributing to an evolutionary vision of the future in sharing and harmony.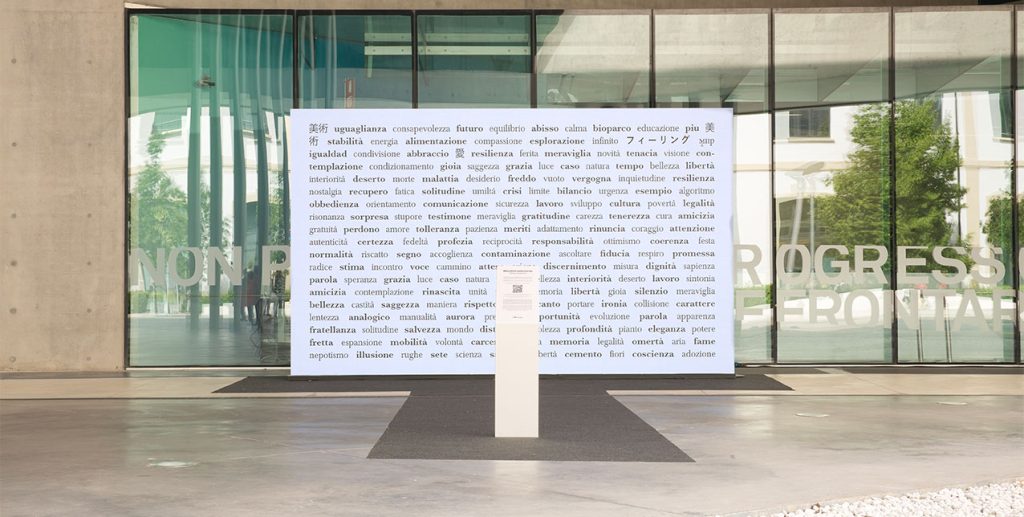 After 21 May, the installation will move throughout Italy, concluding at the Vatican Museums in November.
The "Parola ai giovani" project has been realised in collaboration with the Vatican Museums and MAXXI and in partnership with Banca Ifis (Main partner), Pulsee Energy and Alessia Zanelli.